Study in Sweden: Top 5 Cheap Universities for Pakistani Students - Tuition Fees & Scholarships | Study Visa | Living Cost in 2023
Every student wishes to get a good education and enter the global market to seek a better opportunity for their bright future. Study in Sweden can keep international students' dreams alive
Study In Sweden 2023 - Quick Facts
Study In Sweden – Quick Facts

Best Student Cities in Sweden

Stockholm 

Lund

Gothenburg Umeå

Uppsala

Linköping

Currency

Swedish Krona

1 Swedish Krona= 21.31PKR

(as of 24 November 2022)

Average Tuition Fees in Sweden

7,915 EUR/year

Can I Study in Sweden in English?

yes

Eligibility Criteria

have successfully completed your upper secondary (high school) education (post-16), and. be able to demonstrate proficiency in English

Required Age

No age limit

Degree Acceptance

Worldwide

Average Hostel Fee in Sweden

240-620EUR/month

Living costs in Sweden

700-1,200 EUR/month

Application Process Time

2-3months

Intakes For Admissions

Mid january

Admission without IELTS

yes

Is Study Gap Acceptable In Sweden?

Yes acceptable

Study Visa Process Time From Pakistan

2-4months

Sweden Visa Ratio From Pakistan

99%

Sweden Study Visa Fee from Pakistan

91.95EUR

Application Fee

90EUR
Best and Cheap Universities in Sweden in 2023:
Sweden is home to several world-leading universities that are known for their innovation, notable for research-based education and course diversification, providing state-of-the-art facilities and advanced teaching methodologies. Karolinska Institute was ranked 40th, Uppsala University 80th and Lund University 91st in the World University Rankings 2019. More information about top universities in Sweden are provided in this blog:
4000.00- 6528.74EUR/semester
Humanities/Social Sciences/Law
 10114.82 EUR per academic year
Natural Sciences/Engineering/Education/Pharmacy and Misc
14252.71EUR per academic year
Nursing
15172.24EUR per academic year
Design/Music
26206.59EUR per academic year
Medicine/Sports Science
17930.82EUR per academic year
Average tuition fees for University West are about 4811.38EUR/semester
K

r

i

s

t

i

a

n

s

t

a

d

U

n

i

v

e

r

s

i

t

y

,

S

w

e

d

e

n
from 5500.00 EUR/ semester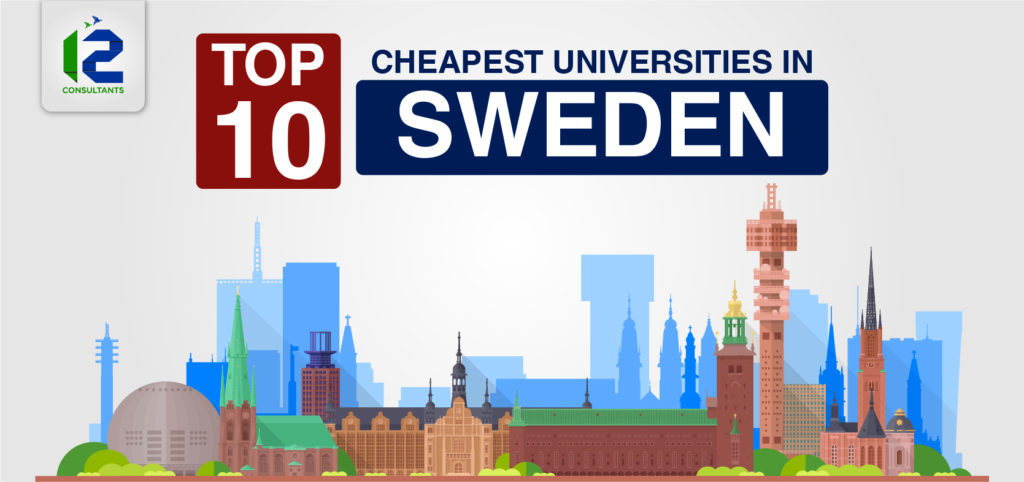 Cheap universities in Sweden 2023
It is ranked among the best universities in Northern Europe, especially in international rankings. This university has nine faculties which include; theology, law, medicine, arts, languages, pharmacy, social sciences, educational sciences and others
K

T

H

R

o

y

a

l

I

n

s

t

i

t

u

t

e

o

f

T

e

c

h

n

o

l

o

g

y
It is the largest and oldest technical university in Sweden.
It offers a range of programs which include humanities and arts, engineering and technology, natural sciences, social sciences and management, mathematics, physics and many more. In addition to bachelor's and doctoral programs, KTH offers approximately 60 international master's programs.
It is located in Lund, a small, lively city near the southwest coast of Sweden. It has more than 28,217 students and still receives a huge number of applications, including international students.
Lund also provides students with several different programs divided into nine faculties, this faculty includes; Faculty of Engineering, Faculty of Science, Faculty of Law, Faculty of Social Sciences, Faculty of Medicine, etc.
It is mostly known as a research university. It has five faculties, ranging from arts to science. This institution is among the 10 cheapest universities in Sweden for international students. Where no undergraduate students from the EU (European Union), EEA (European Economic Area) and Switzerland pay tuition fees of $26,800 to $48,400 per year and graduate students pay tuition fees of $9,100 to $51,200 per year
Dalarna University was founded in 1977 and is located in Falun and Borlänge, Dalarna County, Sweden. It is located in Dalarna, 200 kilometers northwest of the capital Stockholm.
The Dalarna campus is located in Falun, which is the administrative capital of the province, and in the neighboring town of Borlänge. This university offers a wide range of programs such as; business intelligence, international tourism management, economics, solar energy engineering and data science
Next on the list of the cheapest universities in Sweden for international students is Stockholm University College, which was founded in 1878, has over 33,000 students in four different faculties.
These faculties are; law, humanities, social and natural sciences, which is one of the largest universities in Scandinavia
This institute was founded in 1810, first as an academy aimed at training army surgeons. It is one of the world's leading medical universities.
It is the best medical university in Europe.
B

l

e

k

i

n

g

e

I

n

s

t

i

t

u

t

e

o

f

T

e

c

h

n

o

l

o

g

y
Blekinge Institute of Technology is a public, state-funded Swedish institute of technology in Blekinge, which is included in the list of the cheapest universities in Sweden for international students. Allowing multiple applications from students around the world. It is Located in Karlskrona and Karlshamn, Blekinge, Sweden.
C

h

a

l

m

e

r

s

U

n

i

v

e

r

s

i

t

y

o

f

T

e

c

h

n

o

l

o

g

y
This Swedish university has over 11,000 students and 1,000 PhD students. Chalmers has 13 departments and is known for quality education.
M

ä

l

a

r

d

a

l

e

n

U

n

i

v

e

r

s

i

t

y

,

C

o

l

l

e

g

e

.
This university has various education and courses in economics, health/welfare, teacher education, engineering as well as arts education in classical music and opera. Education is delivered on research-based learning that allows students to broaden their horizons and explore history
To study in Sweden, students have to apply for an admission confirmation letter. We can obtain it from the selected Sweden university in 2-5 weeks for our students.
STEP 1: Application process & required documents:   
To get an Admission Letter to Study In Sweden, we require the following documents:
Copy of International Passport.
Copy of High School Certificates (Matriculation & Intermediate).
Students can send us these documents through Email, Whatsapp, or by visiting their nearest branch office of 12 Consultants.
STEP 2: Swedish Study Visa From Pakistan   
Students can also Contact our local representative office for further information about the Sweden Study Visa for Pakistani students.
Visa Application Form 
Passport (at least 2 empty pages in the valid passport are needed).
Admission & Visa Letter from university.
Original School Certificates (attested by Ministry of Foreign Affairs).
Flight Reservation
Accommodation Proof for a stay in Sweden(we can arrange it for you!).
Travel Health Insurance
Birth Certificate in English issued by NADRA.
Police Certificate
Photocopy of applicant's national ID card.
Bank Statement (showing transactions of last 6 months, counting from the date of interview) & Affidavit.
2 passport-size Photo  (white background only)
| | | |
| --- | --- | --- |
| Type of visa | Stay duration | fees |
| Schengen short stay visa | 90-120days (about 4 months) | 91.95EUR |
| a D-visa (long stay visa) | More than 90- 120 days (about 4 months) | 91.95EUR |
Sweden gives foreign students the opportunity to work while studying. While there is no formal limit to the number of hours you will work during your degree, it is important to note that you should spend around 40 hours a week on your academics. The minimum hourly wage to work in Sweden is 16.74EUR.
| | |
| --- | --- |
| Living cost | 1000-1200EUR/month |
| Accommodation  | 830EUR/month |
| dormitories | 300-650EUR/month |
| Food  | 200EUR/month |
| Transportation  | 100-300EUR/month |
| Health insurance | from30EUR |
| Books   | 900EUR |
| Social activities | 100EUR/month |
Is studying in Sweden good?
Sweden is a high-end place for Pakistaninstudents to study abroad with the visa acceptance ratio of 99% and worldwide recognized universities.
Can i study in Sweden without IELTS?
Yes, it is possible to study in Sweden without IELTS. To overcome language barriers, you need to provide language proficiency proof to increase efficiency of education.
Can i work while studying in Sweden?
Yes, you are allowed to work for about 40hours/week. The hourly wage for working part-time in Sweden is 16-17EUR.
Is it cheap to study and live in Sweden?
For EEA/EU students, there is no tuition fees to study in Sweden while nonEEA/EU students have to pay for studying in sweden. In the case of living cost, Sweden is a way cheaper place to live than Switzerland and viceversa.
What is the cost of medicine(MBBS) in Sweden?
As an international student, the cost of MBBS includes both cost of study and living. The average cost of studying MBBS in Sweden is 9454.23EUR/year.
Best Countries To Study Abroad For Pakistani Students
 
Country
Tuition Fee
Living Cost
1

United Kingdom (UK)

$4650 to $15,548

/ Semester

$890

/ month

2

Poland

€1500 – €2,500

/ Semester

€350

/ month

3

Italy

€0 – €9,400

/ Semester

€765

/ month

4

USA

$5150 – $19,400

/ Semester

$1,175

/ month

5

Australia

$4900 – $16,400

/ Semester

$810

/ month

6

Hungary

€0 – €5,600

/ Semester

€380

/ month

7

Canada

$6100 – $15,880

/ Semester

$860

/ month

8

China

$0 – $5,220

/ Semester

$350

/ month

9

Germany

€0 – €9,800

/ Semester

€710

/ month

10

Sweden

€3200 – €6,400

/ Semester

€685

/ month
Connect With Our Admission Experts