Top 10 Best Universities In Russia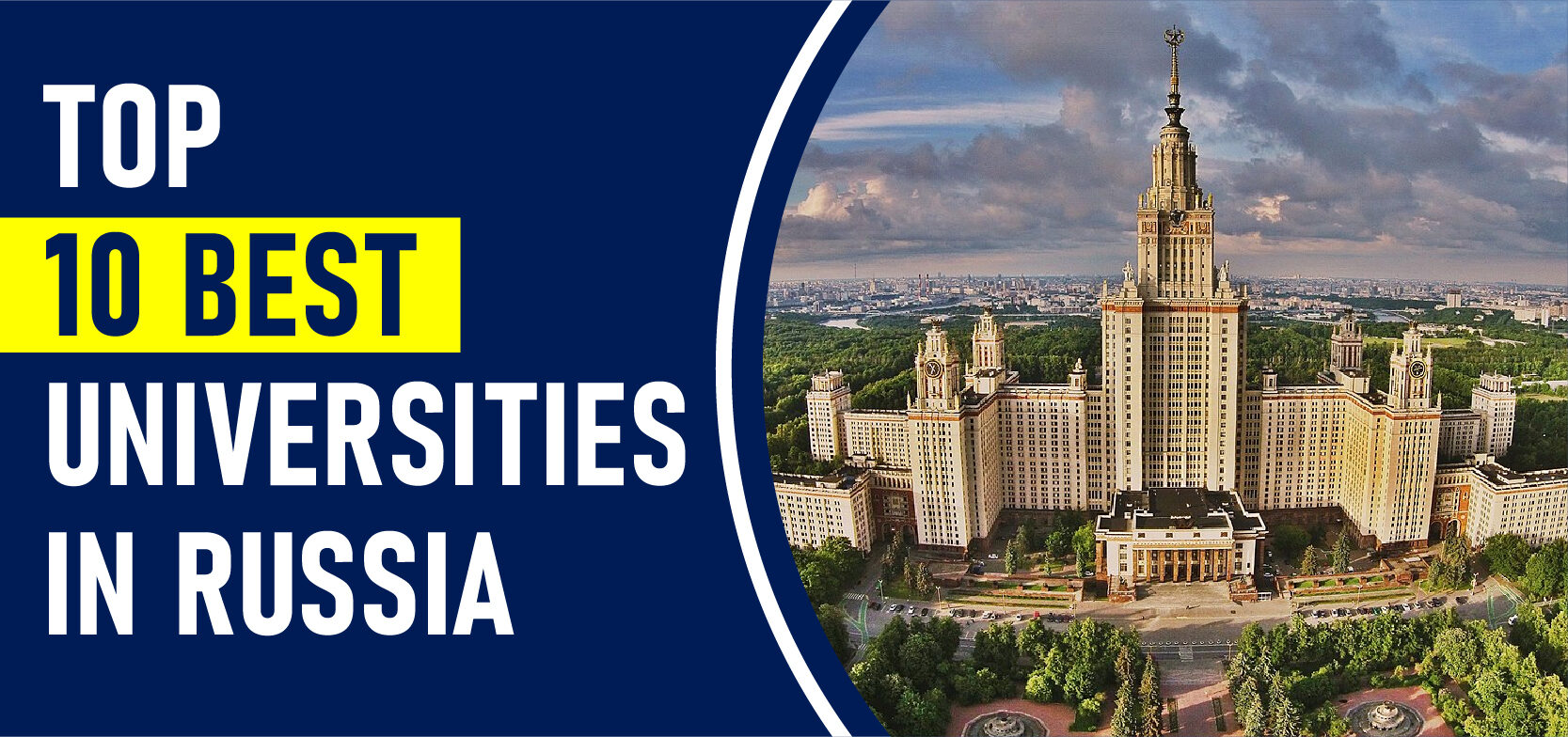 Top 10 Best Universities In Russia
| | |
| --- | --- |
| Top 10 Best Universities In Russia | Moscow, Saint Petersburg, Kazan |
| No of Universities In Russia | |
| Average Bachelors Degree Fees In Russia | |
| Average Masters Degree Fees In Russia | |
| | Available (Mostly for Masters & PhD) |
| | |
| | |
| Work & Jobs for Foreigners | |
| | |
| | |
| | |
| Average Separate Apartment Cost | |
| | |
| Deadline for September Intake | |
| Deadline for January Intake | |
| Visa Invitation Letter Time | |
| | |
| Embassy Visa Fee in Pakistan | 14,000 PKR (Single Entry) |
| Study Visa Ratio For Russia From Pakistan | |
| Best Courses To Study In Russia | MBBS, Business, IT, Engineering |
Because of its centuries-old history & very affordable tuition fees & living cost, Russia is one of the top destinations for higher education.
In recent years, Russia has become one of the leaders for international students to study not only MBBS but also Business, IT, Engineering, Computer Science, Internet & Telecommunications, Space Engineering, and other innovative programs.
All Russian universities have a world-class structure with advanced teaching techniques, modern campuses, inventive laboratories & high-tech
equipment in hospitals.
Study In Russia - Tuition Fees & Living Cost
Russia is a much-sought destination for higher studies because of its affordability. Studying in Russia is the premier alternative for Pakistani students to pursue cost-effective education in the fields of medicine, business, engineering & computer science.
Tuition fees in Russia are not as high as in relevant European medical & business schools. The average MBBS tuition fee structure in Russia for the English medium ranges between 2000 US$ to 2500 US$ per semester.
And the average tuition fee structure for bachelor's & master's degree programs in Russia for the English medium ranges between 1300 US$ to 1800 US$ per semester. Hostel fee is quite the same in both countries which is around 60-90 US$ per month.
Living expenses in Russia remain almost the same as in Pakistan because the economic value of the Russian ruble is not as high as compared to PKR.
Teaching language in Russia
Transferring credit hours from any other country is a very complex process, that's why most universities are reluctant to accept transfer students. But, Russian Universities accept qualified transfer students in MBBS, Business, Engineering & IT on the basis of previous curriculum & academic transcripts provided by students.
Students who would like to transfer their credits to any state university in Russia must submit the following documents for admission
Official academic transcripts from previously attended university with credit hours details.
Educational Certificates
International Passport
These documents are submitted to the Ministry of Education, Russia for certification, to calculate the academic difference, and the credit hours.
If the Ministry of Education finds the previous qualification equal to the Russian curriculum, the student receives an approval certificate to join desired year/semester successfully. Otherwise, the candidate must follow the recommendations set by the Ministry of Education.
Top 10 Best Universities In Russia For Pakistani Students
| | | |
| --- | --- | --- |
|   | University | Average Tuition Fee |
| 1. | Moscow State University | 4800 US$ / Semester |
| 2. | Lomonosov State University | 3500 US$ / Semester |
| 3. | Kazan Faderal University | 2700 US$ / Semester |
| 4. | Novosibirsk State University | 4750 US$ / Semester |
| 5. | Chechen State University | 2500 US$ / Semester |
| 6. | Pirogov Russian National University | 3800 US$ / Semester |
| 7. | Tomsk State University Russia | 4500 US$ / Semester |
| 8. | Peoples Friendship University Moscow | 5700 US$ / Semester |
| 9. | Moscow Engineering Physics Institute | 35000 US$ / Semester |
| 10. | Saint Petersburg State University | 3500 US$ / Semester |
We have put on here the Fee In Russia for cheap & best Universities for Pakistani students. Check out all the necessary details about tuition fees, hostel fees, and other expenses in Russia.
MBBS Fee Structure in Russia
Medical Courses In Russia
| | |
| --- | --- |
| Degree | Duration of program |
| General Medicine (MD/MBBS) | 6 years |
| Pediatrics (MD/MBBS) | 6 years |
| Dentistry (Bachelor of Dentistry) | 5 years |
| Pharmacy (Bachelor of Pharmacy) | 5 years |
| Nursing (Bachelor of Science Nursing) | 4 years |
| Master, PhD, Doctorate, Clinical Residency, other post graduate educational programs | 2-3 years |
Moscow State University Fees
| | |
| --- | --- |
| Undergraduate Program | Tuition Fee |
| MBBS, Dentistry, Pediatrics | $4,800/Semester |
| Pharmacy/Nursing/Public Health | $3,800/Semester |
| Postgraduate Program | Tuition Fee |
| Master, PhD, Clinical Residency | $3500-4500/Semester |
| Preparatory Department fee | $3,350/Semester |
| Accommodation / Hostel fee | $900/Semester |
Pirogov Russian National Research Medical University Fees
| | |
| --- | --- |
| Undergraduate Program | Tuition Fee |
| MBBS, Dentistry, Pediatrics | $3,800/Semester |
| Postgraduate Program | Tuition Fee |
| Master, PhD, Clinical Residency | $2500-3500/Semester |
| Preparatory Department fee | $2,350/Semester |
| Accommodation / Hostel fee | $900/Semester |
Saint Petersburg State University
| | |
| --- | --- |
| Undergraduate Program | Tuition Fee |
| MBBS, Dentistry, Pediatrics | $4,600/Semester |
| Pharmacy/Nursing/Public Health | $3,800/Semester |
| Postgraduate Program | Tuition Fee |
| Master, PhD, Clinical Residency | $2500-3500/Semester |
| Preparatory Department fee | $2,350/Semester |
| Accommodation / Hostel fee | $700/Semester |
Lomonosov State University
| | |
| --- | --- |
| Undergraduate Program | Tuition Fee |
| MBBS, Dentistry, Pediatrics | $3500/Semester |
| Pharmacy/Nursing/Public Health | $2800/Semester |
| Postgraduate Program | Tuition Fee |
| Master, PhD, Clinical Residency | $2500-3500/Semester |
| Preparatory Department fee | $2,350/Semester |
| Accommodation / Hostel fee | $700/Semester |
Dagestan State Medical University
| | |
| --- | --- |
| Undergraduate Program | Tuition Fee |
| MBBS, Dentistry, Pediatrics | $2500/Semester |
| Pharmacy/Nursing/Public Health | $1800/Semester |
| Postgraduate Program | Tuition Fee |
| Master, PhD, Clinical Residency | $2000-2500/Semester |
| Preparatory Department fee | $650/Semester |
| Accommodation / Hostel fee | $300/Semester |
Chechen State University
| | |
| --- | --- |
| Undergraduate Program | Tuition Fee |
| MBBS, Dentistry, Pediatrics | $2500/Semester |
| Pharmacy/Nursing/Public Health | $1800/Semester |
| Postgraduate Program | Tuition Fee |
| Master, PhD, Clinical Residency | $2000-2500/Semester |
| Preparatory Department fee | $950/Semester |
| Accommodation / Hostel fee | $300/Semester |
Kabardino-Balkarian State University
| | |
| --- | --- |
| Undergraduate Program | Tuition Fee |
| MBBS, Dentistry, Pediatrics | $2500/Semester |
| Pharmacy/Nursing/Public Health | $1800/Semester |
| Postgraduate Program | Tuition Fee |
| Master, PhD, Clinical Residency | $2000-2500/Semester |
| Preparatory Department fee | $650/Semester |
| Accommodation / Hostel fee | $300/Semester |
Peoples' Friendship University
| | |
| --- | --- |
| Undergraduate Program | Tuition Fee |
| MBBS, Dentistry, Pediatrics | $5100/Semester |
| Pharmacy/Nursing/Public Health | $3800/Semester |
| Postgraduate Program | Tuition Fee |
| Master, PhD, Clinical Residency | $3000-3500/Semester |
| Preparatory Department fee | $1950/Semester |
| Accommodation / Hostel fee | $700-1200/Semester |
Tula State Pedagogical University
| | |
| --- | --- |
| Undergraduate Program | Tuition Fee |
| MBBS, Dentistry, Pediatrics | $1750/Semester |
| Pharmacy/Nursing/Public Health | $1200/Semester |
| Postgraduate Program | Tuition Fee |
| Master, PhD, Clinical Residency | $2000/Semester |
| Preparatory Department fee | $550/Semester |
| Accommodation / Hostel fee | $300/Semester |
AVIATION/ENGINEERING/COMPUTER/BUSINESS/OTHER FIELDS
| | |
| --- | --- |
| Obtaining Degree | Duration of studying |
| Bachelor | 4 years |
| Master | 2 years |
| PhD | 3 years |
Rybinsk State Aviation Technical University
| | |
| --- | --- |
| Undergraduate Education | Bachelor Fee |
| Tuition fee, English medium | $2,950 for first 2 semesters onwards 2,450/semester |
| Tuition fee, Russian medium | $2000/semester |
| Postgraduate Education | Masters Fee |
| Tuition fee, Russian medium | $2000/semester |
| Postgraduate Education | PHD Fee |
| Tuition fee | $2000/semester |
| Preparatory Department fee | $2000/semester |
| Accommodation / Hostel fee | $2000/semester |
Chechen State University
| | |
| --- | --- |
| Undergraduate Education | Bachelor Fee |
| Tuition fee, English medium | $2,250 for first 2 semesters onwards $1,750/semester |
| Tuition fee, Russian medium | $1500/semester |
| Postgraduate Education | Masters Fee |
| Tuition fee, English medium | $1750 for first 2 semesters onwards $1,500/semester |
| Tuition fee, Russian medium | $1750/semester |
| Postgraduate Education | PHD Fee |
| Tuition fee | $1750/semester |
| Preparatory Department fee | $1000/semester |
| Accommodation / Hostel fee | $400/semester |
Grozny State Oil Technical University
| | |
| --- | --- |
| Undergraduate Education | Bachelor Fee |
| Tuition fee, Russian medium | $1500/semester |
| Postgraduate Education | Masters Fee |
| Tuition fee, Russian medium | $1750/semester |
| Postgraduate Education | PHD Fee |
| Tuition fee | $1500/semester |
| Preparatory Department fee | $2000/semester |
| Accommodation / Hostel fee | $3025/semester |
Pskov State University
Undergraduate Education
Bachelor Fee
Tuition fee, English medium

Economics, International, Economics, Business Administration Management, Accounting and Audits

 $1500-$2000

Tuition fee, Russian medium
$1250/semester
Postgraduate Education
Masters Fee
Tuition fee, English medium
$1250
Tuition fee, Russian medium
$1750/semester
Postgraduate Education
PHD Fee
Tuition fee
$1500/semester
Preparatory Department fee
$1000/semester
Accommodation / Hostel fee
$350/semester
Kabardino-Balkarian State University, Nalchik City
| | |
| --- | --- |
| Undergraduate Education | Bachelor Fee |
| Tuition fee, English medium | $2,000 for first 2 semesters onwards $1,250/semester |
| Tuition fee, Russian medium | $1250/semester |
| Postgraduate Education | Masters Fee |
| Tuition fee, English medium | $2,000 for first 2 semesters onwards $1,250/semester |
| Tuition fee, Russian medium | $1250/semester |
| Postgraduate Education | PHD Fee |
| Tuition fee | $1500/semester |
| Preparatory Department fee | $1000/semester |
| Accommodation / Hostel fee | $250/semester |
Tula State Pedagogical University
| | |
| --- | --- |
| Undergraduate Education | Bachelor Fee |
| Tuition fee, English medium | $1750/semester |
| Postgraduate Education | Masters Fee |
| Tuition fee, Russian medium | $1600/semester |
| Postgraduate Education | PHD Fee |
| Tuition fee | $2100/semester |
| Preparatory Department fee | $1600/semester |
| Accommodation / Hostel fee | $300/semester |
Saint Petersburg State University
| | |
| --- | --- |
| Undergraduate Education | Bachelor Fee |
| Tuition fee, English medium | $3000-4250/semester |
| Tuition fee, Russian medium | $1500/semester |
| Postgraduate Education | Masters Fee |
| Tuition fee, English medium | $4,900/semester |
| Tuition fee, Russian medium | $3000-4,250/semester |
| Postgraduate Education | PHD Fee |
| Tuition fee | $3000-4,250/semester |
| Preparatory Department fee | $3000/semester |
| Accommodation / Hostel fee | $1300/semester |
Connect With Our Admission Experts