Study Medical Post-Graduation / Clinical Residency In Ukraine
Study Medical Post-Graduation / Clinical Residency In Ukraine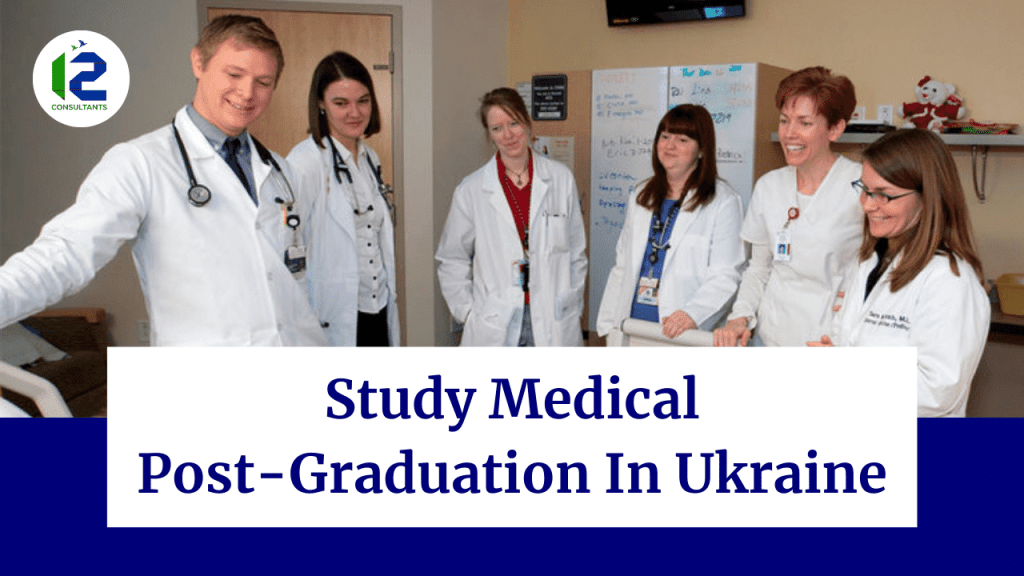 | | |
| --- | --- |
| | |
| | |
| | |
| Average PG Fees In Ukraine | |
| Duration (Non-Surgical Programs) | |
| Duration (Surgical Programs) | |
| | |
| | |
| | |
PG Courses in Medicine / Dentistry / Pharmacy / Nursing:
The main objective of the postgraduate training is to allow the students of medical institutions to continue their education and general practitioners to improve their skills for further certification.
The Medical faculties together with its teaching hospitals and other health organizations will provide the necessary physical and human resources to create a scholarly environment appropriate for the training of medical graduates so that they acquire the knowledge, skills, and attitudes to become accomplished physicians and surgeons with the highest moral and ethical standards.
The individual form of training is based on qualification characteristics, professional and position requirements, principles of realized perspective, and doctor's pretensions. Detailed theoretical training is combined with learning practical skills, operative technique, and typical and complex operations.
Top Majors PG – Medical Specialization /Clinical Residency Courses
Following courses are available for PG in the English Language at medical universities of Ukraine.
Radiology
Therapy
Dermatology and Venereology
Infectious Diseases
Neurology
Pathological Anatomy
Psychiatry
Obstetrics and Gynecology
Anesthesiology
Orthopedics
Ophthalmology
Urology
Surgery
Pediatrics
Child Gynecology
Pediatric Infectious Diseases
Pediatric Surgery
Hygiene of Children and Teenagers
General Hygiene
Cardiology
Occupational Hygiene
Epidemiology
Therapeutic Dentistry
Pediatric Dentistry
Orthopedic Dentistry
Surgical Dentistry
Allergology
Anesthesiology
Bacteriology
Cardiology
Clinical Biochemistry
Clinical Immunology
Combustiology
Dermatovenerology (Skin & Ven.Diseases)
Emergency Medicine
Endocrinology
Endoscopy
ENT
Epidemiology
Family Medicine-General Practice
Forensic Medicine
Functional Diagnostics
Gastroenterology
General Hygiene
General Surgery
Hematology
Immunology
Immunology of Forensic Medicine
Infectious Diseases
Genetics
Immunology
Medical Genetics
Microbiology & Virusology
Narcology
Neonatology
Nephrology
Neuro Surgery
Neurology
Obstetrics & Gynecology
Oncogynecology
Oncology
Oncootolaringology
Oncosurgery
Ophthalmology
Organization and Administration of Health
Orthopedic Stomatology (Prosthodontics)
Orthodontics
Orthopedics & Traumatology
Parasitology
Pathological Anatomy
Pediatric Allergology
Pediatric Anesthesiology
Pediatric Cardio-reumatology
Pediatric Dermatovenerology
Pediatric Endocrinology
Pediatric ENT
Pediatric Gastroentrology
Pediatric Gynecology
Pediatric Hematology
Pediatric Immunology
Pediatric Infectious diseases
Pediatric Nephrology
Pediatric Neurology
Pediatric Oncology
Pediatric Ophthalmology
Pediatric Orthopedics & Traumatology
Pediatric Pathological anatomy
Pediatric Phtysiatry
Pediatric Psychiatry
Pediatric Pulmonology
Pediatric Stomatology (Dentistry)
Pediatric Surgery
Pediatric Urology
Pediatrics
Physiotherapy & Rehabilitation
Professional Pathology
Psychiatry
Pulmonology
Radionuclear Diagnostics
Ray Diagnostics
Rentgenology
Reumatology
Sanology
Sexopathology
Sports Medicine
Stomatology
Surgical Stomatology / Oral Surgery
Therapeutic Stomatology / Conservative Dentistry
Therapy / Medicine
Thoracic Surgery
Toxicology
Transplantology
Tuberculosis (Phtysiatry)
Ultrasonography
Urology
Vascular Surgery
Medical Internship In Ukraine
An internship is a compulsory form of postgraduate education of doctors, dentists, and pharmacists as the primary specialization, which means raising the practical training's level & providing occupational fitness for the independent medical practice of specialists due to main medical and pharmaceutical specialties, determined by the corresponding orders of Ukraine.
Training in internship is carried out due to specialties: obstetrics and gynecology, anesthesiology and intensive therapy, dermatovenereology, general practice – family medicine, infectious diseases, sport medicine, medicine of urgent states, neurology, neurosurgery, clinical oncology, orthopedics and traumatology, otolaryngology, ophthalmology, pathological anatomy, psychiatry, radiology, forensic medical examination, internal diseases, urology, pulmonology and phthisiology, surgery, children's surgery, neonatology, pediatrics, general hygiene, epidemiology, stomatology, general pharmacy and medical psychology.
STEPS OF ADMISSIONS
To get admission in any University of Ukraine there are three steps:
STEP 1: HOW TO GET AN ADMISSION LETTER?
To get an ADMISSION LETTER from any University of Ukraine we require the following documents:
Copy of International passport.
Copy of High School Certificates.
Copy of Bachelor Degree & Academic Transcript.
PLEASE NOTE THAT WE ARE OFFERING FREE ADMISSION LETTERS
STEP 2: HOW TO GET INVITATION LETTER?
To get an Invitation Letter for the PG program from any University of Ukraine we require the following documents:
Copy of International passport.
Copy of High School Certificates.
Copy of Bachelor Degree (if the student is applying for Master's degree).
A Consent that should be signed by the applicant. (Students can get it from our office)
Invitation Charges 280 US$.
Courier Charges 100 US$.
Note: Students can visit our nearest office in their region to provide documents. Also, they can pay the Admission Fee BY-HAND or directly in our company bank account.
STEP 3: Applying for Study VISA
After getting an invitation letter from 12 Consultants students should contact the nearest Ukrainian Embassy or Consulate or VFS Global.
Students can contact our local representative office also for visa information and they will assist students with all necessary information for obtaining the visa.
Students should apply to Ukrainian Embassy with the following documents:
Original Invitation letter
Original international passport (valid for one year)
Higher Secondary School certificate
Birth Certificate
Medical Certificate showing absence of Aids/HIV
8 Passport size Photos.
Bank Statement
Police Certificate (Character Clearance Certificate)
Air Ticket Reservation.
Travel Insurance.
Note: For submitting the Visa file, students have to contact the nearest VFS Global Office (Jerry's Office).
The visa category for Ukraine Student Visa is a D-type multi-entry visa.
Advantages of studying Medical Post – Graduation in Ukraine
Standard of Education: The universities in Ukraine provide world-class education with advanced techniques & highly qualified training staff.
Worldwide Recognition: The medical universities of Ukraine are recognized by WHO, UNESCO, European Medical Council, African Medical Councils, Medical Council of India (MCI), Pakistan Medical Commission (PMC), and all other medical councils.
Job Opportunities In Medical Field: As the degree is acceptable in all other European countries, that's why it's easier to find a job with an effective salary.
Affordable Education Cost: MBBS in Ukraine is much cheaper as compared to other European countries but the degree value is same. That's why a number of students from the U.K, Germany, France, Canada, Italy, Spain, etc are studying medicine in Ukraine as they cannot afford the cost in their own country.
No Entrance Exam: There is no entrance or language proficiency exam (IELTS/TOEFL) for admission in MBBS in Ukrainian medical universities.
Cost of Living: Living cost in Ukraine is much lower than other European countries but you can enjoy the same lifestyle & diversity. This has become an effective reason for many to select Ukraine as their destination for higher education.
Personal Development: Students studying in Ukraine are encouraged to take part in other extracurricular activities like seminars and conferences to build their interest and confidence for overall learning and development.
Permanent Settlement: Unlike other European countries, Ukraine offers permanent residency opportunities for all International students from every country, so they can manage to do work in Ukraine after degree completion.
The medium of instruction in universities is English which is very comfortable for foreign students.
Visa Processing is easy and simple as compared to other European countries.
Ukraine has a good diversified structure of students. Students from many countries are studying there.
Disadvantages of studying Medical Post – Graduation in Ukraine
Climatic Conditions: Ukraine has a cold climate. One could expect frequent snowfalls from October till March.
Language Barrier: The official language in Ukraine is Ukrainian. So, it sometimes becomes difficult to communicate with the local community.
Obtaining Visa From Pakistan: Ukraine has become a gateway to all European countries; that's why a lot of people use Study-Visa just as a tool to get entry into Ukrainian territory. The embassy is well aware of this issue, and they have scrutinized the visa process from Pakistan. Anyhow; for genuine students, we can manage to offer a 100% guaranteed visa with some additional charges.
Homesickness: Sometimes students feel homesick. But we will consider this a temporary problem, as with the passage of time students start communicating with local & other foreign students and find good friends.
Limited Universities: Unlike Russia, China & other EU countries, Ukraine doesn't have a variety of Universities. As of 2021, there are around 25 Medical Universities in Ukraine.
MBBS Fee at Top Medical Universities in Ukraine - 2022
| | |
| --- | --- |
| | |
| Odessa International Medical University | |
| Lviv National Medical University | |
| International European University Kyiv | |
| Kharkiv National Medical University | |
| South Ukrainian National Pedagogical University | |
| Dnipropetrovsk State Medical University | |
| Poltava State Medical & Dental Academy | |
| Ivano-Frankivsk National Medical University | |
| Donetsk National Medical University | |
| Bogomolets National Medical University | |
| Zaporizhzhia State Medical University | |
| Vinnitsa National Medical University | |
| Uzhhorod National Medical University | |
| Kyiv Medical University of UAFM | |
| Ternopil State Medical University | |
Connect With Our Admission Experts